The NASA Kids' Club has games and activities for all ages and school levels.
---
Kids in Space
There's a whole universe out there waiting to be explored! Go to the NASA Kids' Club webpage for lots of exciting games, puzzles and activities suitable for space explorers of all ages.
Deep Space Network
This scale model replicates a NASA Deep Space Network 34m Beam Wave Guide antenna 'dish' just like the those used at the tracking stations in Spain, the United States and in Canberra, Australia.
The model is recommended for children 14 years and older to build on their own, but is suitable for younger kids with an adults assistance.
+ Build your own DSN antenna
The website has all of the instructions and parts sheets ready to download, print out and start building your own Deep Space Network antenna.
---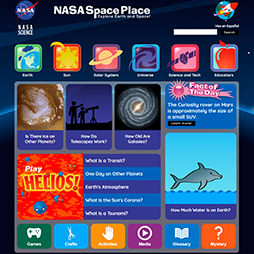 The Space Place - games, resources and fun facts.
---
The Space Place has been a favourite for many years and is filled with games, resources and fun facts.
+ The Space Place website