Deep Space Network - NOW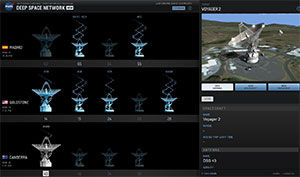 DSN Now is a fantastic website (also for smart phones) where you can discover exactly what each antenna is up to and what spacecraft it's communicating with.
Take a look at the website and see whether we are transmitting or receiving, data on signal strengths, transmission power, spacecraft distance and a whole lot more.
Tracking Schedule
Each day the antennas are directed to receive or transmit data to any number of robotic spacecraft exploring our Solar System and beyond. This schedule is worked out months in advance by the mission controllers at the Jet Propulsion Laboratory in Pasadena, California USA.
At various times in the schedule, time is set aside for antenna calibration, maintenance, or engineering development tasks. Time is also set aside for radio astronomy projects and mission training simulations.
Below is the general antenna tracking schedule for the next few weeks, showing the spacecraft being tracked each day. A list of links to each mission is provided below.