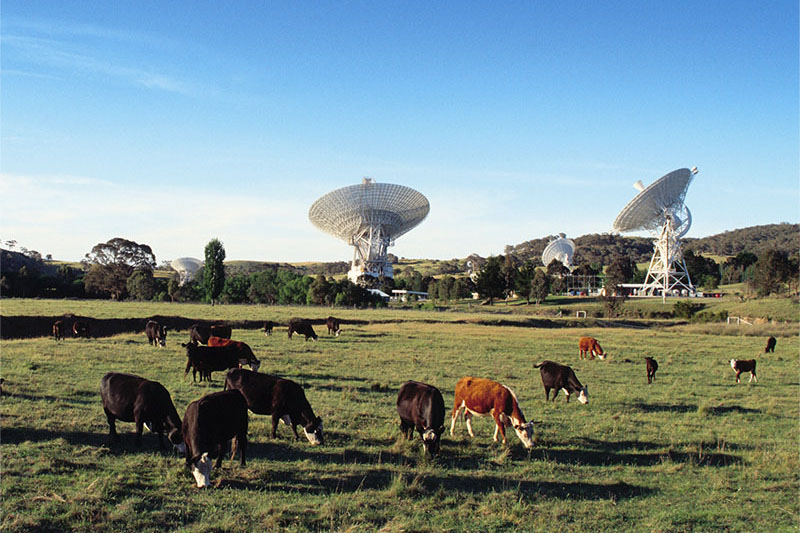 The tracking station is located 35kms southwest of Canberra city. A pleasant 45 minutes drive through forest and farmland.
---
Directions and Maps
Travel to the Canberra Deep Space Communication Complex takes about 40-45 minutes from the centre of Canberra city. We are located approximately 35 kilometres southwest of the city and can be easily accessed via the route known as Tourist Drive 5 (TD5).
TD5 is a 73 kilometre loop taking you through the beautiful Tidbinbilla valley and there are several attractions along the way. The road twists and winds a bit, but you can't get lost on it as it's a single road with only one or two turn-offs.
Northside Access
Best from Belconnen, Woden and City...
Travel to Cotter Road which branches from off from Adelaide Avenue (not far past Parliament House and The Lodge). You can also access Cotter Road from Belconnen by driving down Tuggeranong Parkway or Coppins via Crossing Road. Pass by Mount Stromlo on towards Cotter.
Once on the Cotter Road keep following it past Mt Stromlo Observatory, over the Murrumbidgee River and past the Cotter picnic area where the road turns sharply to the left (at this time there is a lot of works going on associated with the construction of the new Cotter Dam - until 2014).
After 16 kilometres of former plantation forests and farms in the Tidbinbilla region you will reach a turnoff on the left - Discovery Drive - for the Deep Space Complex.
Four kilometres to go and you will come over the hill and see the large antennas of the Canberra Deep Space Communication Complex.
Southside Access
Best from City, Tuggeranong or Queanbeyan...
From Queanbeyan you must travel on the Monaro Highway towards Cooma. There is a turn-off on the right for Johnson Drive. Follow this past a number of roundabouts till the road becomes Woodcock Drive.
From the City, take Adelaide Avenue past Parliament House, then watch for the turn-off onto Cotter Road. Along Cotter Road take the turn-off for the Tuggeranong Parkway which later becomes Drakeford Drive. At a large roundabout take Woodcock Drive. Two kilometres along Woodcock Drive is a turnoff on the right to Jim Pike Avenue for Point Hut Crossing. Pass over the crossing (a popular swimming area) and at the end of that road turn right towards Tidbinbilla.
Ten kilometres along that road (Tidbinbilla Road) you will pass the Tidbinbilla Nature Reserve on the left. Two kilometres later is a turnoff on the right - Discovery Drive - for the Deep Space Complex (aka Tidbinbilla Tracking Station).
Four kilometres to go and you will come over the hill and see the large antennas of the Canberra Deep Space Communication Complex.
GPS Users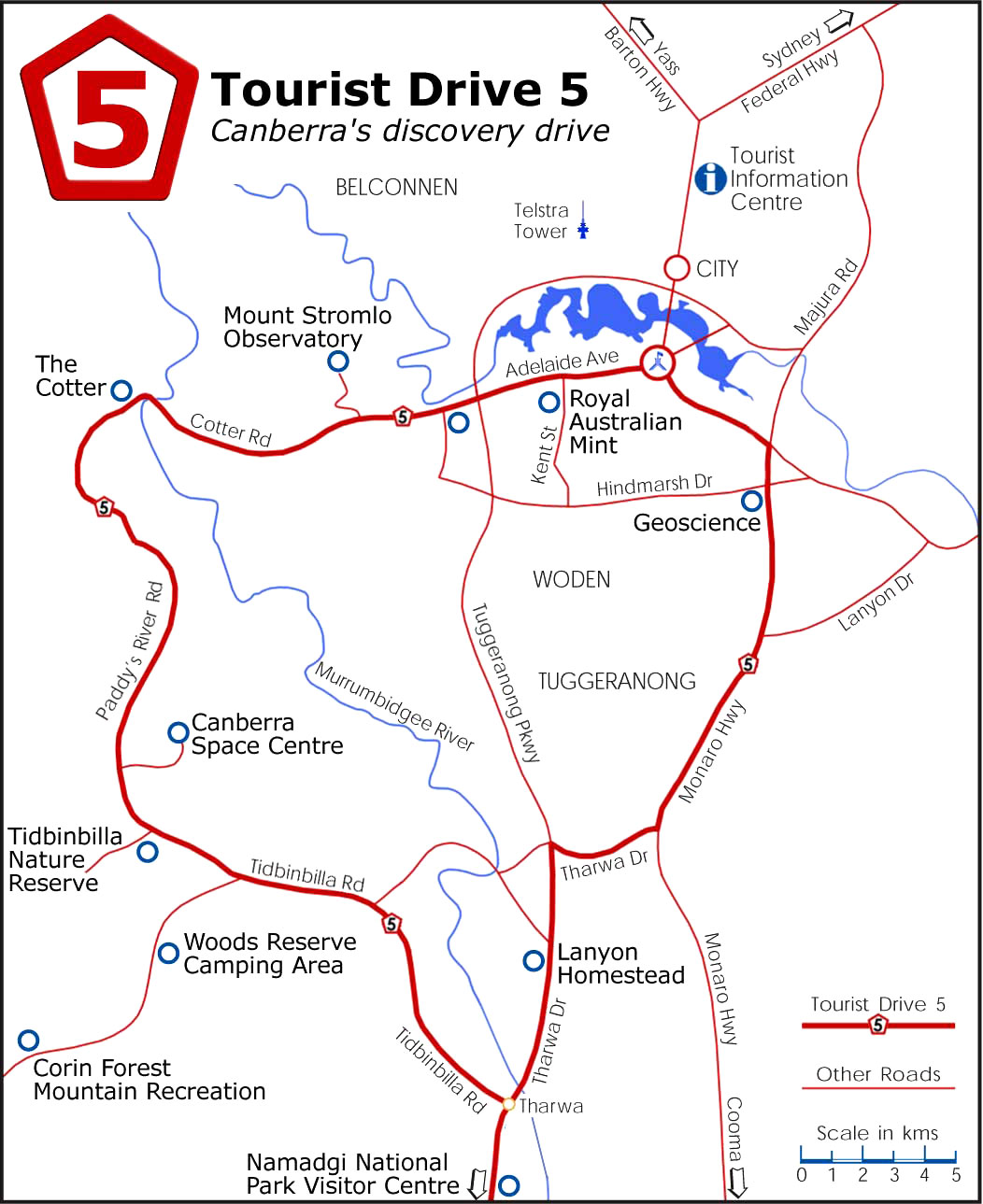 Enter into your nav. system
Discovery Drive, Paddys River District
or coordinates: -35.39972,148.97086
Latitude: 35° 24' 04" .918 South
Longitude: 148° 58' 53" .574 East
Visit Attractions on Tourist Drive 5
Tourist Drive 5 offers a variety of attractions that you can take in one at a time or spend the day on this 73km road loop.
• Parliament House
• The Lodge
• Royal Australian Mint
• Government House
• Mt Stromlo Observatory
• Cotter Recreation Area
• Cotter Dam Discovery Trail
• Brindabella Station
• Tidbinbilla Nature Reserve
• Corin Dam
• Gibraltar Falls
• Corin Forest
• Namadgi National Park
• Lanyon Homestead
• Nolan Gallery
• Geoscience
• Robert Burns Memorial
Important Notes
Wildlife - Please be careful as kangaroos, emu, wombats and other wildlife frequently cross the roads. Prime activity time is in the mornings and evenings but can happen any time.
Fuel - Tourist Drive 5 is 73kms long, please ensure your vehicle's fuel supply. There is one service station in the area near Tharwa, 30kms south of the Complex.
First Aid - The mid-point of the drive is at least 40-minutes from ambulance services. Keep a first aid kit handy.
Mobile Phones - Many areas in the Tidbinbilla Valley have little or no mobile phone coverage. Also, please assist us by turning off mobile phones and other transmitting devices when entering the Complex's vicinity.