Opening Hours and General Information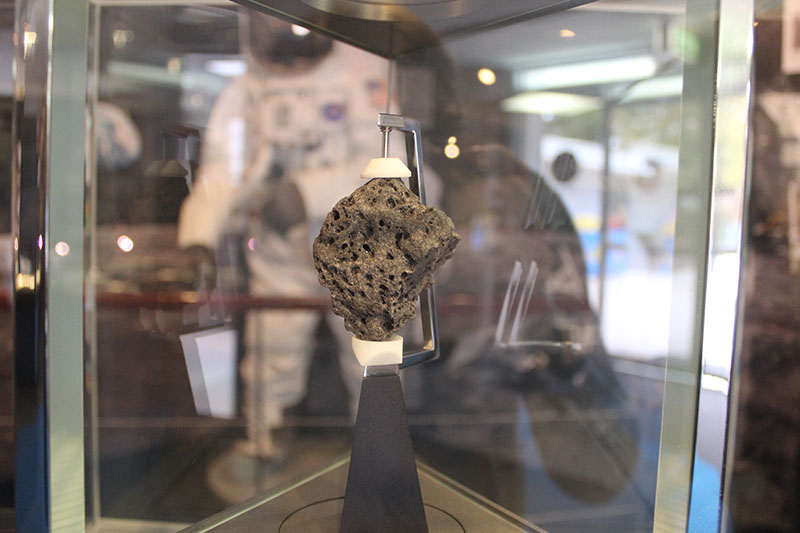 Visitor Centre Temporarily Closed
While we are currently closed, we have set up informational signage in our carpark where there are also views to our antennas. A statement on the closure can be found here.
The Visitor Centre is located on the grounds of the Canberra Deep Space Communication Complex (CDSCC) at Tidbinbilla, approximately 35 kilometres southwest of the city, approximately a 40-45 minute drive from the city centre.
We are on Tourist Drive 5, which is a 73 kilometre loop taking you through the beautiful Tidbinbilla valley. The road twists and winds a bit, but you can't get lost on it as it's a single road with only one or two turn-offs.
The CDSCC Visitor Centre offers visitors the chance to learn about the role that Australia plays in the exploration of space. You can take in magnificent views of the largest antenna complex in the southern hemisphere, see a piece of the Moon that's over 3.8 billion years old, check out the latest images from across the Solar System and beyond, check out spacecraft models, plus flown space hardware and memorabilia. Discover the foods that astronauts ate on the space shuttle and space station, watch a movie on the history and future of space exploration, or take a hands-on trip around the Solar System or across the galaxy.
When Planning a Visit, please note:
Due to the relative isolation of the Complex, you need to note the following:
Mobile phone coverage in the area is limited
General first aid assistance can be provided by staff but ambulance services would take up to 45 minutes to reach the Complex
Roads in the area are sealed but rough surfaces can be encountered - please drive carefully
The nearest petrol station is 25 kilometres from the Complex (we do not provide fuel)
Roads wind through bush and farmland, so animals (kangaroos, emus, wombats, sheep, etc.) do move across roads without warning at any time of day - please drive carefully
Playground and Cafe
There is a playground for kids, the Deep Space Café and some outdoor areas to enjoy. The Visitor Centre and Complex are set in the beautiful Tidbinbilla valley region. Make a day of it by also visiting the Tidbinbilla Nature Reserve, just a few kilometres down the road.
Opening Hours
Temporarily Closed
Location
Canberra Deep Space Communication Complex
421 Discovery Drive, Tidbinbilla
off Cotter & Paddys River Roads
GPS Users: Enter into your nav. system
Discovery Drive, Paddys River District
Location coordinates: -35.39972,148.97086
Latitude: 35° 24' 04" .918 South
Longitude: 148° 58' 53" .574 East
---
Tourist Drive 5 Attractions
Tourist Drive 5 offers a variety of attractions that you can take in one at a time or spend the day on this 73km road loop.
Parliament House
The Lodge
Royal Australian Mint
Government House
Mt Stromlo Observatory
Cotter Recreation Area
Cotter Dam Discovery Trail
Brindabella Station
Tidbinbilla Nature Reserve
Corin Dam
Gibraltar Falls
Corin Forest
Namadgi National Park
Lanyon Homestead
Nolan Gallery
Geoscience
Robert Burns Memorial